Wife's First Black Cock
By: Karen Barnes
Genres: #Cuckold #Interracial #First Time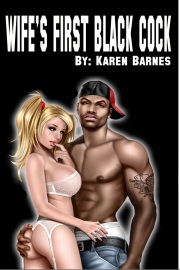 "I TOOK A PHOTO OF MY YOUNG HAIRY WIFE DEE DEE NAKED IN 1974 WHEN SHE WAS 17 YEARS OLD. SHE WAS A SENIOR IN HIGH SCHOOL AND GETTING READY FOR CLASS WHEN I ASKED HER TO POSE NAKED FOR ME. SHE ASKED ME WHY?"

Husband shares a nude photo of his future wife with his best friend Willie. His wife admits that she has been attracted to Willie for some time and a new relationship blossoms.

Author's Bio:

Karen Barnes is an author of erotic tales.
#Kinky_Literature, #Kinky_Books, #Erotic_Fiction, #Erotic_Literature, #Erotic, #Erotica, #Kink, #Kinky, #Fiction, #KinkyLit
Purchase Options
---
Smashwords Available Formats:
epub, mobi, pdf, rtf, lrf, pdb, txt, html
---
More Books By: Karen Barnes