Swing Island Resort: The Swinging Resort
By: Charlie Wish
Genres: #Swinging #Group #Blowjob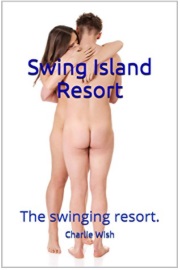 "THE SECOND BOOK OF THE SWING ISLAND SERIES."

George and Ellie have their first fight and become even closer.

They make new friends who visit the island and George loses his anal virginity.

Follow the building of the swinging resort and the construction crew's swinging fun.

George nearly kills a man to protect Ellie.

The first guests arrive and find out how to give the perfect blow job as well as other lessons.

Finally what happens at a most unique wedding as the happy couple finally marry.

23 chapters packed with explicit sex that will have you cumming over and over and at nearly 60,000 words it's no "quicky".

Author's Bio:

I live full time in an American RV and travel europe all year round. I came to writing quite late in life have had a programming background that I am bored with now and writing has given me a new lease of life.

I love to give people pleasure. I find it almost as rewarding as receiving pleasure myself. I write erotica for the simple reason that I can give many people a lot of pleasure not only by exciting them but hopefully in assisting in them reaching their climax the ultimate in pleasure.

I hope you enjoy my books.
#KinkyLiterature, #KinkyBooks, #EroticFiction, #EroticLiterature, #Erotic, #Erotica, #Kink, #Kinky, #Fiction, #KinkyLit
Purchase Options
---

Amazon Available Formats:
Kindle, Paperback
---
---
More Books By: Charlie Wish