The Scullys At Swing Island: Newlyweds Visit A Swingers' Resort
By: Charlie Wish
Genres: #Swinging #Group #CasualSex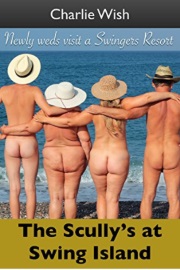 "I AM PLEASED TO TELL YOU WE ARE NOW FAR AWAY FROM LAND THAT YOU MAY DISROBE WHENEVER YOU WISH."

The Scullys Book 1

Joe and Poppy Scully start their new married life by spending a week at Swing Island, a wedding present from their parents.

This book is the follow up series from the "Moral Opposites" Series of books about the happy couple and how they accidentally met coming from morally opposite upbringings. One is from a strict Mormon household and the other from a sexually liberated nudist household.

One of them had to leave behind everything and everyone they knew to be able to be together. The series can be found by searching the Kindle store for "Moral Opposites"

You can read all about Swing Island in the "Swing Island" series of book which tells the remarkable story and romance of George and Ellie by searching the Kindle store for "The Founding Of Swing Island"

Author's Bio:

I live full time in an American RV and travel europe all year round. I came to writing quite late in life have had a programming background that I am bored with now and writing has given me a new lease of life.

I love to give people pleasure. I find it almost as rewarding as receiving pleasure myself. I write erotica for the simple reason that I can give many people a lot of pleasure not only by exciting them but hopefully in assisting in them reaching their climax the ultimate in pleasure.

I hope you enjoy my books.
#KinkyLiterature, #KinkyBooks, #EroticFiction, #EroticLiterature, #Erotic, #Erotica, #Kink, #Kinky, #Fiction, #KinkyLit
Purchase Options
---

Amazon Available Formats:
Kindle
---
---
More Books By: Charlie Wish