Pissing Secret
By: Charlie Wish
Genres: #GoldenShowers #Fetish #Kinky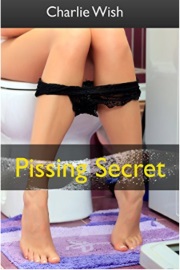 "THEN ONE DAY TWO YEARS AGO SHE HAD THE MOST EARTH-MOVING CLIMAX."

Emma has a dirty secret she can't share with anyone. She wets herself when she climaxes and she climaxes when she pees. She manages to keep this secret until the man of her dreams gets her out into the wilderness. Much to her shame and embarrassment the truth comes out, and so does his secret!

Author's Bio:

I live full time in an American RV and travel europe all year round. I came to writing quite late in life have had a programming background that I am bored with now and writing has given me a new lease of life.

I love to give people pleasure. I find it almost as rewarding as receiving pleasure myself. I write erotica for the simple reason that I can give many people a lot of pleasure not only by exciting them but hopefully in assisting in them reaching their climax the ultimate in pleasure.

I hope you enjoy my books.
#KinkyLiterature, #KinkyBooks, #EroticFiction, #EroticLiterature, #Erotic, #Erotica, #Kink, #Kinky, #Fiction, #KinkyLit
Purchase Options
---

Amazon Available Formats:
Kindle
---
---
More Books By: Charlie Wish