TABOO FIRST TIMES: BIG MEN OF THE HOUSE MEGA BUNDLE 27
Genres: #FirstTime #VeryBigCock #Anthology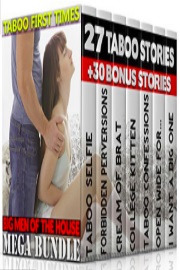 "WHY ARE YOUR PULLING MY PANTIES DOWN?"

27 Sizzling Taboo Stories of Brats Getting Stuffed, Stretched and Losing their innocence to The BIG MEN of the House.

These Forbidden Stories are so wrong and steamy that you will be aching to feel something very BIG and very TABOO inside of you! +30 Bonus Stories! 57 Total Stories!!!

Look inside and get ready to spread for The BIG Men of the House...
#KinkyLiterature, #KinkyBooks, #EroticFiction, #EroticLiterature, #Erotic, #Erotica, #Kink, #Kinky, #Fiction, #KinkyLit
Purchase Options
---

Amazon Available Formats:
Kindle
---
---
More Books By: Savannah Scarlett