Memoirs Of A Gigolo: Happy St. Patrick's Day Oliver
By: Livia Ellis
Genres: #Holiday Story #Gigolo #Casual Sex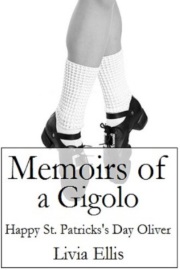 "OLIVER RETURNS TO IRELAND FOR AN UNFORGETTABLE ST. PATRICK'S DAY."

Oliver returns to Ireland for some old school fun over the St. Patrick's Day weekend. His journey takes a new turn when he learns more about the Doctor and the Club the men in his family have been members of for generations.

Author's Bio:

Livia Ellis is blond with blue eyes and comments that she only runs if a gun-wielding maniac is chasing her. She is a lover of yoga and a bit of a shoe hound and says she may have had issues passing up handbags. Currently, she is trying to learn to play the Irish harp. She enjoys both theater and concerts, as well as reading fantasy and science fiction. She admits she adores Star Trek and has a picture of herself (dressed as a nun) and the late Patrick Swayze (dressed as a medieval warrior) in a frame (yes - she did cry when he died).

Ellis describes herself as a perpetual student with a vivid imagination although she admits that she is only sexually adventurous on paper. She says she never knows what to say when people end a conversation with 'god bless.' Ellis occasionally plays the lottery - but generally only when she's feeling really poor. She loves to travel and speaks French fluently. She is always happy to find readers who enjoy what she writes.
#Kinky_Literature, #Kinky_Books, #Erotic_Fiction, #Erotic_Literature, #Erotic, #Erotica, #Kink, #Kinky, #Fiction, #KinkyLit
Purchase Options
---

Amazon Available Formats:
Kindle
---
---
More Books By: Livia Ellis