McDonald's Super-Sized Big Beautiful Woman 2: The BBW, The Shapeshifter, and the Flower Truck
By: Red Pesca
Genres: #BBW #Romance #Comedy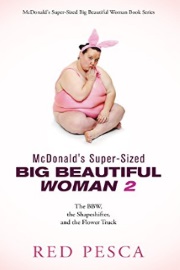 "MARISSA MACDONALD GOT WEIGHED IN A MCDONALD'S. NOW WHAT?"

McDonald's Super-Sized Big Beautiful Woman Book Series

A BBW has an experience she never could have imagined. She finds a gorgeous guy with a thing for weighing. Things never pan out for Marissa for some reason and she's left alone. Will this be the tipping point in her life? Or will she find a supernatural adventure? Follow Marissa in her romantic and comedic escapades.

Author's Bio:

Red adores women. He enjoys his job writing erotica immensely. It takes courage to really be who you are in life. "This is who I am," Red says. "It took me years to learn about myself. I write erotic literature that examines the relationships between people and their natural yet often illicit attractions."
#KinkyLiterature, #KinkyBooks, #EroticFiction, #EroticLiterature, #Erotic, #Erotica, #Kink, #Kinky, #Fiction, #KinkyLit