Falling For Her/Him: Transgender Sexcapades
By: Pailin Jay
Genres: #Tranny #Erotica #Romance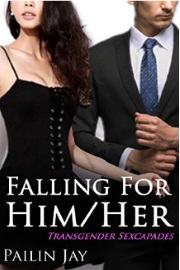 "THE CLUB WAS HOPPING AS LEX LOOKED AROUND SMILING TO HIMSELF TO SEE SO MANY PEOPLE TONIGHT."

When Alexi decides to try out the club everyone is raving about she is surprised to find the man she has been looking for all her life. Stuck in the world of living as a woman but still loving her man parts she has struggled to find acceptance.

Lex owns the most exclusive club in town yet he can't seem to find the one who light his fire. Tonight the woman of his dreams walks in and he can feel the pull. To his delight, all his fantasies have come to light in the form of Him/Her.
#KinkyLiterature, #KinkyBooks, #EroticFiction, #EroticLiterature, #Erotic, #Erotica, #Kink, #Kinky, #Fiction, #KinkyLit
Purchase Options
---

Amazon Available Formats:
Kindle
---
---
More Books By: Pailin Jay